"The True History of St. Fidgeta, Virgin and Martyr" is the first chapter of Saint Fidgeta and Other Parodies.
Synopsis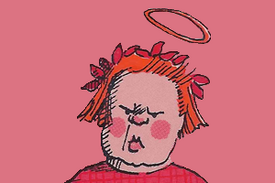 The chapter is farcical hagiography, or biography of a saint, that tells of
Fidgeta
's brief life in
Gaul
.  Bellairs mimics the style of authoritative texts, complete with marginalia, in documenting how the worship of the saint has propagated since her death: her apparitions, her interpretation in art, stories of those from the cult of Fidgeta, as well as other miscellany.
Inspiration
In the early 1960s John Bellairs regaled many a friend with stories of Saint Fidgeta during parties and other social get-togethers while a post-graduate student at the University of Chicago[1]. It is assumed that the "true history" published is the definitive work of the author on the subject and culminated from the best bits of his Chicago-era stories.
Differences in media
The content that makes up the chapter has been printed four separate times:
Saint Fidgeta: Her Life and Amazing Times (1965)
Saint Fidgeta and Other Parodies (1966)
A Funny Thing Happened To The Church (1969)
Magic Mirrors (2009)
Reference
↑ Correspondence with Marilyn Fitschen.
Saint Fidgeta and Other Parodies
1 • 2 • 3 • 4 • 5 • 6 • 7 • 8 • 9 • 10 • 11 • 12