"The Question Box" is the fourth chapter of Saint Fidgeta and Other Parodies.
Synopsis
The concept of a liturgical question box can be traced back to the 1893 World's Columbian Exposition, taking place in the South Shore neighborhood of Chicago and along the Midway Plaisance that now forms the southern boundary of the University of Chicago.  One of the key parts of the exposition was the Parliament of the World's Religions, the first formal gathering of representatives of Eastern and Western spiritual traditions from around the world.
In attendance were men from the Missionary Society of Saint Paul the Apostle, better known as the Paulist Fathers, a Roman Catholic society whose mission is to preach the gospel and provide information with the intention of converting people to Catholicism. The Paulists set up the first Question Box in the Assembly Hal, allowing non-Catholic fair-goers to submit hundreds of questions on all sorts of topics: "Is the Pope Antichrist?" "The Fable of
Pope Joan
", "The Crusades", "The
Ouija-Board
", "Theatre-Going", and "The Morality of Strikes."
[1]
The religious leaders in attendance were both pleased and yet surprised of the straightforward communication practice. Many of the answers were collected in book form for Father Bertrand L. Conway's The Question-box Answers: Replies to Questions Received on Missions to Non-Catholics (1903); a second edition was printed in 1929.  The concept went on to be adopted into numerous other environments, from collegiate symposiums to local parish's newsletter.  Even the advancement of technology has pushed the limits and availability of the Question Box to new horizons with electronic "boxes" found in blogs and forums on the Internet.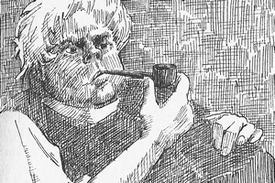 This process was ripe for parody in Bellairs's fourth chapter wherein the text is presented as a back-and-forth between a hodge-podge of
parishioners
and a nameless moderator who provides varying degrees of substance and snark. It's the image of the moderator (
Saint Fidgeta and Other Parodies
; 41) that's familiar to friends of the author who liken it to a caricature of
John
with the addition of long white hair
[2]
.
Reference
↑ Building the Old Time Religion: Women Evangelists in the Progressive Era.  Priscilla Pope-Levison (2014).
↑ Correspondence with Charles Bowen.
Saint Fidgeta and Other Parodies
1 • 2 • 3 • 4 • 5 • 6 • 7 • 8 • 9 • 10 • 11 • 12