The Curse of the Blue Figurine is the first book in the Johnny Dixon series, published in 1983, and is John Bellairs's eighth book. It introduces Johnny Dixon and his neighbor, Professor Roderick Childermass living in Duston Heights, Massachusetts.
After Professor Childermass tells of the mysterious disappearance of the former rector of their church, Johnny finds a book that was once owned by the Remigius Baart stashed in the basement of Saint Michael's.  Disobeying the words on the scroll that it - and a strange blue figurine - should not be removed from the church, Johnny takes the book home that begin a series of nightmarish events that only come to a conclusion high in the White Mountains.
Plot
Write the first section of your page here.
Cast
Protagonists
Main article: Johnny Dixon Series#Characters
Antagonists
Setting
Background
Dedication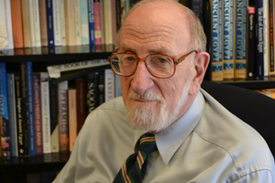 To Gerry, who knows about ushabtis.
"I do not think John did in fact consult me beforehand, either about the ushebtis or about any Egyptological content. John had the most extraordinary range of knowledge that he had picked up from reading. My recollection is that I did not know that the book was forthcoming until it was nearly out. I think I learned about the dedication when he sent me a signed copy of the book. He tended to be sly about such things."
[1]
"
External links
Reference
↑ Correspondence with Gerald Kadish.