The Beast under the Wizard's Bridge is the eighth book in the Lewis Barnavelt series. It is Brad Strickland's second novel in the series and his fifth overall in the Bellairs Corpus.
The old, metal bridge above Wilder Creek is being torn down and set to be replaced by a newer and sturdier bridge.  Lewis gets anxious at the news because of an incident he and his uncle witnessed near the bridge many years before and, before long, realizes he has every right to feel afraid.  During the course of his investigation, Lewis, with his best friend, Rose Rita Pottinger, discover the history of a meteorite landing Capharnaum County to be more sinister than previously realized.
Plot
Write the first section of your page here.
Cast
Protagonists
Main article: Lewis Barnavelt series characters
Antagonists
Setting
Background
The story of the book originates from a passage in The House with a Clock in its Walls where Lewis, his uncle, and Mrs. Zimmermann cross an iron bridge to escape the phantom car that peruses them.  Once safe, Mrs. Zimmermann speculates that they owe they safety to not just crossing the running water below but what Elihu Clabbernong "put into the iron of the bridge...to make sure that the ghost of his dead uncle, Jedediah, didn't cross the stream to get him (House, 100)."
Strickland said the book's proposed title for the novel was The Bane of the Wizard's Bridge, "but someone [on the editorial board] decided 'bane' was too hard a word for the age group. I kind of liked it myself, though.[1]"
The wrap-around dust jacket and frontispiece features the last completed bookwork of Edward Gorey, who died April 15, 2000, thereby ending a quarter-century association with the work of John Bellairs.
Dedication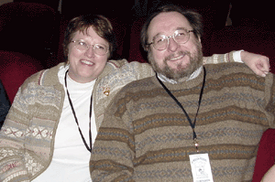 For Barbara, with all my love.
"Barbara, my wife of more than thirty years, and I had a bad scare while I was working on the book, and Barbara had to have a serious operation. She came through with flying colors, made a remarkable recuperation, and emerged as good as new--but the concern and worry of the months leading up to the operation made me aware that I had not told her that I loved her enough. I'm still working on it.[1]"
External links
Reference