The Shuffly (scuffulans hirsutus) is a sentient being hailing from in or around the Flapping Forest that "live[s] in fens and eat[s] Mayflies, bulrush hearts, and linen napkins." 
Sir Bertram asks the Occupant of Charnel House where he can find a Shuffly, prompting the man to direct him to a nearby swamp.  There Sir Bertram finds one particular Shuffly that wears brown bathroom slippers and has a penchant for wanting to play. Sir Bertram then uses the Shuffly as a chaos-bringer to intervene in Snodrog's plans for pending nonexistence (The Pedant and the Shuffly).
Inspiration
The Latin name (Pedant, 43) "roughly" translates as the "hairy shuffling one".
Dale Fitschen, to whom the book is dedicated, says "John himself said the notion of the Shuffly came from a very short sketch I wrote, with an accompanying cartoon. The Shuffly was sort of a lighthearted offspring of the Heap, and I was just writing a paragraph in an attempted Ray Bradbury style of colorful ominousness, with a jokey last line.[1]"
Fitschen says the sketch went something like this:
Pleased and putrescent, the pimply Shuffly sloughed and chafed its batwing, brazening, bombastic bulk over coffined cobbles, leaves lashing in gusts of tree terror, sending sleepy sparrows spattering on black brick walls and mouse-twigged nests with tinsel and ripe grape eggs skittering and bursting on the cloud-hidden street. Shuffly never noticed.
The oozing ovula ogled with goggling lenses the blond boy engrossed in a book, beneath a parent-forbidden after ten lit lamp. Boy never heard, never felt a thing, as Shuffly tendrils seeped over the sill, paused and moaned. The boy hurriedly flipped a page and never noticed, until a great shadow slid over the desk and up the wall, and a hoarse morphitic murmur drizzled into his ear, "Wanna play?[1]"
Dale says John did his own thing after that.
The Heap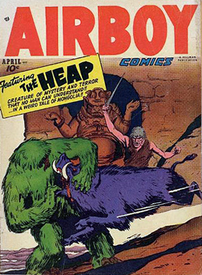 The Heap is the name of several fictional comic book muck-monsters, the original of which first appeared in Air Fighters Comics #3 (Dec. 1942), created by writer Harry Stein and artist Mort Leav.  The entity was formerly Baron Eric von Emmelman, a World War I German flying ace who was shot down in 1918 over a Polish swamp. Clinging to the smallest shred of life through sheer force of will, his body decayed over the decades - intermingling with the vegetation around him - until he became  one with the marshland itself and became a shaggy, shambling half-world creature, notably resembling a huge humanoid haystack. Similarly-named, but unrelated, characters appeared in in the 1970s and 1990s.[2].
References
↑ 1.0 1.1 Correspondence with Dale Fitschen.
↑ Wikipedia: Heap (comics)