This is a list of the locations where John Bellairs lived during his time in Illinois, covering both his time in Chicago (1959-63 and 1965-66) and Mount Carroll (1966-67).
Chicago
International House (Fall 1959-Spring 61)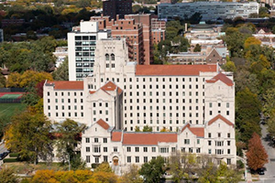 Bellairs lived at the International House (or I-House) at the University of Chicago during his first year of graduate school (1959) until 1961. He may have returned to the I-House to live later in the 1960s.
Woodlawn Apartment (Summer 1961)
In January 1961, Dale Fitschen lived in an apartment on 56th Street with roommates John Drew, John Moriarty, and John Drew.  These four lived there only for a quarter, before "John Moriarty found a bigger, better apartment on Woodlawn near 53rd Street." That summer Bellairs moved into the Woodlawn apartment with Dale Fitschen, McFarlane, and Moriarty[1].
Unknown (Fall 1961)
It is unknown where Bellairs lived for the autumn and winter quarters of classes.  Fitschens speculate he could have returned to International House or found a new roommate, Joe Ryan, and shared an apartment on 59th Street[1].
Spring 1962
Bellairs lives in apartment "across the Midway" with Joe Ryan, another Ph.D. candidate from Notre Dame[2].
Alpha Delta Phi House (Summer 1962)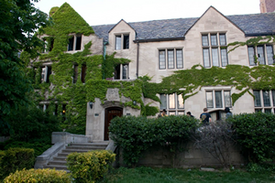 Bellairs and Bernard Markwell took rooms at the university's Alpha Delta Phi House in the summer of 1962.
1963-65
By late summer 1963, Bellairs left whatever housing he had in Chicago and moved to Winona, Minnesota, for two years.
Laughlin Hall
Bellairs first met soon-to-be friend Bernard Markwell in the Fall of 1960 at a meeting at this housing complex at 5519 South Blackstone Avenue.  A few years later Bellairs would eventually move to the building to live[2]. It is unknown if he lived here before or after his tenure in Minnesota.
Bellevue Apartment (c.1966)
In the mid-1960s, after returning from Minnesota, Bellairs moved into an apartment at 100 East Bellevue Avenue[3], near the Newberry Library where friend Don Wilcox was doing research at the time[1]. It's unknown if he and John were roommates or just lived near each other.
Bellairs left Chicago to live and teach in Mount Carroll in September 1966.
Mount Carroll
McKee Hall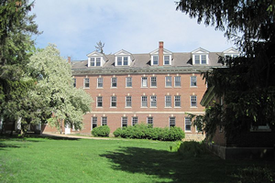 McKee Hall was a dormitory on the Shimer College campus in Mount Carroll.
Reference
↑ 1.0 1.1 1.2 Correspondence with Marilyn Fitschen.
↑ 2.0 2.1 Correspondence with Bernard Markwell (2003).
↑ University of Chicago Career Counseling and Placement booklet (Jul. 14, 1966).