Miss Myra Eells is the head librarian at the Hoosac Public Library in Hoosac, Minnesota.  She is the best friend of Anthony Monday and the older sibling of Emerson Eells.  Eells is a spry woman in her 60s hampered in all situations only by being a little on the clumsy side.
Inspiration
Eells is another one of Bellairs's older adults that befriends a younger character and becomes, in a way, almost a surrogate parent to Anthony, who confesses to feeling closer to Miss Eells than his own mother, who often scolds or second guesses what her son is up to.
Naming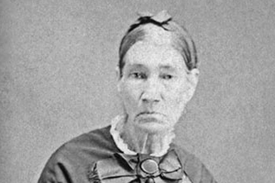 Coincidence or not, Bellairs's character shares the name of a nineteenth century American missionary. Myra Fairbanks Eells (1805-1878), along with her newlywed husband, the Reverend Cushing Eells, were one of the families recruited by the American Board of Commissioners for Foreign Missions as reinforcements to the Oregon Mission. The Eells, along with Elkanah and Mary Richardson Walker, established a mission at Tshimakain in 1838, near the present day town of Ford, Washington, to live and work with the Spokane Indians. On their trip west, Myra Eells and Mary Walker kept diaries of their dangerous journey that were later collected for the book On to Oregon: The Diaries of Mary Walker and Myra Eells. The Eells had two sons, Edwin (b.1841) and Myron (b.1843).
Closer to home, the similarly-named-but-differently-spelled Anne Ells of Marshall, Michigan, was the Marshall Historical Society president from 1961 to 1967.
Pronunciation
There have been questions as to the proper pronunciation of "Eells" – does it rhyme with "bells" (as in The Clue According to Sherlock Holmes) or with "seals" (as heard in the audio book versions of The Lamp from the Warlock's Tomb and The Mansion in the Mist)? For what it's worth, Myra Fairbanks Eells's name rhymes with "seals."
Adaptation
External links
Bellairs Corpus
By John Bellairs
Series
Who's who
Anthony Monday | Myra Eells | Emerson Eells
What's what
Hoosac Public Library | Monday's Cigar Store
Where's there
Hoosac, Minnesota | Rolling Stone, Minnesota