Lyndon Baines Johnson
(1908–1973), often referred to as LBJ, was the 36th President of the United States (1963–1969), a position which he assumed after his service as the 37th Vice President (1961–1963). Johnson was a Democrat from Texas who served as a United States Representative from 1937 to 1949 and as a United States Senator from 1949 to 1961
[1]
.
Bellairs Corpus
Johnson was president during Pope Paul VI's 1965 visit to the United States. As such, the notes found in the desk of a New York advertising executive assume Johnson will still be president for when the next pope's visit and the notes speculate on what could transpire (Saint Fidgeta and Other Parodies; 30). Johnson and Paul VI would meet again: briefly in December 1967 in Vatican City.

The notes wonder what sort of gifts the two could give each other: cowboy boots, salt shakers shaped like domed buildings from their native land (that is, Saint Peter's Basilica and the United States Capitol), or a Byzantine icon of the president (Saint Fidgeta and Other Parodies; 31)? Oddly enough Johnson had a penchant for strange papal presents: his gifts to the pope in 1965 included a silver-framed, autographed photograph of himself and, two years later, at their next meeting at the Vatican, Johnson presented the pontiff with a foot-high bust of himself [2].
Hamish Runcet makes a prediction that Johnson will turn out to be a brass automaton, with clockwork insides, operated from the planet Buggog (Saint Fidgeta and Other Parodies; 104).
Byzantine icon of LBJ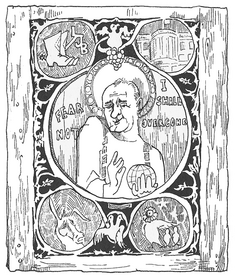 The byzantine
icon
of LBJ is a half-page illustration (
Saint Fidgeta and Other Parodies
; 31) by
Marilyn Fitschen
, showing the president as a saint and surrounded by symbols of his background and presidency, namely a pair of cowboy boots and a branding iron, the White House, a donkey representing the Democratic party, and three figures meant to be his family.
"John took such delight in my drawings that he didn't even notice that I inverted Johnson's initials in the upper-left. Yes, it should read LBJ, although Dale said I should lie and say I meant to represent 'Long John Bellairs'. Pretty weak.  The large bird-like creature in the lower right is Lady Bird Johnson as seen from the rear directing her two daughters. The 'flower' is actually a sort of bonnet.  The two-headed dove in the bottom center is, as you may have guessed, a representation of our perception of Johnson's two-faced handling of the peace in Viet Nam issue.[3]"
The icon's motto - "Fear not, I shall overcome" - echo the words spoken by Christ in John 16:33[4] ("Fear not, I have overcome the world").
Reference