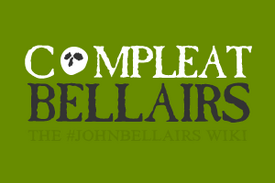 Welcome to the
CompleatBellairs
, an online encyclopedia about the life and work of author
John Bellairs
that anyone – be it
flimsy
, a god of Upper and Lower Egypt, or even you – can contribute to.
If you've visited Bellairsia over the past decade or so then you've probably noticed that we enjoy researching and exploring the historic, literary, and geographical references that John tossed into his stories. All of his writings reflect some of his varied interests: from history and folklore to literature, religion, baseball, and beyond. These interests, mixed with his incredible imagination, resulted in spellbinding stories with historic names and archaic locations blended throughout the text. This realistic depth could easily engage the curious: who were John Stoddard and John Dee? Where are Van Twiller, New York and Stone Arabia, Maine? Why were eight-sided houses built? Is there really that much Shakespeare referenced in the novels? Hic Iacet Lamia?
Overlapping with this is the emphasis on reference. It's been a topic of discussion ever since Dial Books for Young Readers chose Edward Gorey to illustrate John's books: how do I find the original hardcover editions that feature the wrap-around dust-jackets? Which books were issued in paperback? Who illustrated the foreign language editions? Why are the books published in Poland so...well...odd? The Internet may have made finding such answers easier but no one ever said those answers were totally correct. The CompleatBellairs aims to present clear and accurate publishing data and book collecting resources to let you know what you've found.
We invite you to take some time to learn about John's life and work: from his novels and his colorful characters to the places he called home during his lifetime. You can visit some of his inspirations in his hometown of Marshall, find out about him quoting Chaucer on national television, and learn about the rise of the "famous author." Elsewhere there's information about author Brad Strickland and illustrators Edward Gorey and Marilyn Fitschen. Plus a few surprises, we're sure.
Welcome to the world of John Bellairs. As he was known to say, so we've been told:
Hooray for us.